The Björk blog that reads like a magazine.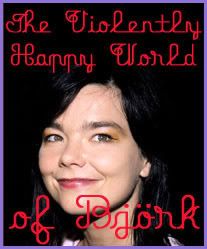 This site is best viewed with Firefox or Netscape.
Internet Explorer can't seem to tell a sidebar from a main column, so the layout will likely be skewed.
But Internet Explorer sucks no matter how you look at it, so why use it for anything?
About Me

Name: Dana Marie Andra
Location: California, United States

My two blogs – The Observation Deck and Björk Zine – are an extension of everything I've written and produced between 1970 and 2008. My credits include writing & producing video about music, technology, health, finance and travel for CNET, TechTV and PBS, and direct-sale videos about the ancient mysteries and natural wonders of Mexico and the Four Corners region of the United States...writing about music, film, and popular culture for Alternative Press, Magnet, Jazziz, Filmfax, Reflex, Comic Art, The Warren Companion (hardcover edition), Comic Book Marketplace, Charlton Spotlight, Alter Ego, The Comics Journal, The Comics Buyer's Guide, Rocket's Blast-Comicollector, Comics Interview, Amazing Heroes, Baby Boomer Collectibles and Toy Trader...and writing comics for Dark Horse, Fantagraphics, Caliber, and Comico. Compared to many, I'm just a small fish in a big pond, but my writing springs from all the sundry things that interest and inspire me, and my desire to share these things with others.

Previous Posts

PLUS MORE! Check the archives... Links